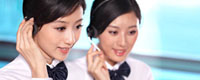 Name: Joe Guo
Tel: 0086-796-8799911
Fax: 0086-796-8799911
Mobile: 0086-13666839043
E-mail: sales@gyq-autoparts.com
E-mail: joe.guo@gyq-autoparts.com
Add: Kanmen Science&Technology park,Yuhuan,Taizhou,Zhejiang,China
Skype: joe2589
WeChat: joe2589
whatsapp: 0086-13666839043
QQ: 273592256







The Symptoms of a Bad Stabiliser Link
Stabiliser links act as components of auto suspensions, connecting several other parts that take much of the punishment as you pass over pot holes and other road imperfections. This vital suspension component acts as something of a counter-balance for your car's main springs. These links can become broken or damaged, which will adversely affect the handling of the vehicle.
1) Poor or Unpredictable Handling
A broken or damaged stabiliser link can cause your vehicle to handle poorly, particularly if the link is broken. If it is broken, then the bar is not connected to the chassis properly and will not prevent the car from leaning in a corner. Your car will lean more in corners if the link is broken. If the link is damaged, the handling may feel twitchy.
2) Unusual Noises
Another symptom of a damaged stabiliser link can be unusual noises caused by the link. If the link is broken, then that end of the bar is free to flop around independently of the suspension and chassis. It can cause rattles and clicks as it moves around and knocks against the vehicle as you drive around corners. There can also be an audible "clunk" or "click" as you go over bumps.
3) Appearance
Another symptom of a broken stabiliser link is determined by a visual inspection, which is also the best way to judge if there is a problem with the link and not some other component in the suspension. If the link is broken, it will not be attached to the suspension on one end or may not be attached to the bar on the other end.